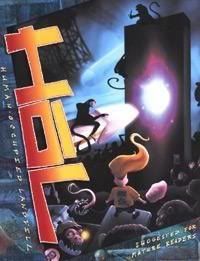 Human Occupied Landfill is the second gift I received from
my Austrian fiend
. Unlike Ninja Burger (



) I had very mixed feelings about this game.
The thing that strikes me about the book the most is the way it's written. From the moment you open the book you see these letters written down all over the place... which is the total opposite of most roleplaying books with their clear fonts, no crossed out words and horizontal lines of text. Naturally, this is very much in theme with the game itself as the book tells you from the get-go it is not what other games are.
The game is set in the far future controlled by a corrupt and oppressive government in cahoots with the Church. These who entities control the vast expanse of space, the universe and all that jazz. There is one planet where all the unwanted and unnecessary things go, including YOU. Yes, you are the dreg of society living on a garbage planet so filled with junk that you're not even sure if there's any dirt under all these layers of throwaway stuff. This is also the planet where criminals, nut-cases, rebels and anything else the government doesn't approve of gets left to rot.
The first part of the book is the player section. The voice used for this section is very degrading. The system uses a set of 5 statistics and skills tied to them. The skills have very long winded names and are supposed to be funny, like: "Science and Everything Else You Failed in High School". In this it reminds me of my other gift since it looks like the skill list can be easily expanded upon. The system itself is fairly simple where you roll 2d6, add your statistic and applicable skill and any modifier the HoL Meister can come up with. Such as -5 for not bringing his favourite snack (a modifier that the game encourages). Then hope you get in the range of 15-19 if you want to be achieve anything. As with many other games, a roll of 12 allows you to roll again and add the new result to your total while a roll of snake eyes makes your head explode... if the HoL Meister is feeling especially merciful today (and as we all know,
it takes a special kind of sadism to be a Game Master
).
HoL has no classes but it does provide you with a few sample characters. Amongst them is a priest who liked to spend his time educating little boys, a man who when the full moon is up in the sky changes into a man, the Zinc Surfer and my favourite, the worst roleplayer stereotype ever. Well... at least I got a giggle out of this small part.
It's only when I reached the Game Master section that I started having doubts about my initial bad reaction to the game. The way it praised me for not being one of those lousy players and scaring them away from this section as much as possible was to be expected considering the previous part of the book. What I didn't expect is the cool ideas. While the system didn't feel right, rolling to spot someone and a fail means your head explodes is just weird, but the setting actually has some interesting ideas. Normally in a game you're playing a paragon, even if it's a paragon of scum, the tendency is to play someone who is part of society in some way. In HoL you're playing a person who everyone wants to forget about. Think of the worst stereotype of any type of character class you can think of and multiply it by a thousandfold, that's your character. The description of the planet itself and its various places has piqued my interest. It is just such a grim and dangerous place where you have to scavenge for scraps of fifty year old milk for breakfast... if you're feeling especially lucky today... and think of all the things people throw away! Some might actually be quite useful.
And then there is one antagonist that makes the whole game even cooler: The King. Here's a description of one of his abilities:
Immortality - No that doesn't mean he can't die, but even if he does, he'll still eventually show up in a supermarket checkout line on the other side of the universe.
Yeah, a sci-fi game where you can kill Elvis... repeatedly...
Buy it Now on Amazon
:
Human Occupied Landfill
Buy it Now on Amazon

:
Human Occupied Landfill